Arthur's Call To Duty
Resources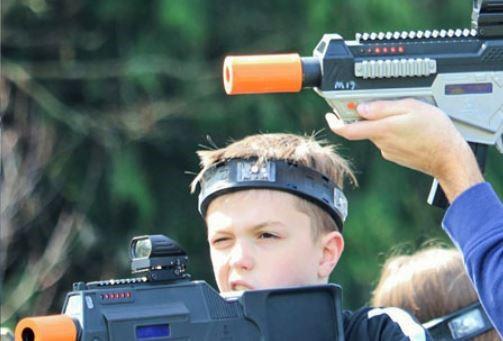 Arthur's Call to Duty is similar to many console/online games that you may have played, but this is live, one of kind, laser tag action on a battlefield. This live gaming experience requires no controller. You are equipped with a battle rifle and a headset. To shoot, look down the scope, aim at your target and pull the trigger. In most aCTD games, the objective is to get the most kills to win the game.back for updates to this page.
A great thing about this game is that you don't need any experience to play! There are plenty of cool things you can do, but if all you want to do is shoot your weapon and never run out of ammo, then all you need to do is pull the trigger and go. But if you want to enjoy some of the extra things in the game such as gaining secondary weapons, getting killstreaks, and more, then those things can be done too. No matter how you choose to play, you'll have a blast!
There are over 20 predesigned games with over 100 different weapons to use.
In each of our games, the battlefield is arranged with 8 unique areas that contain utility boxes that serve as areas that are set to respawn, pick up weapons, activate bombs, operate as a domination point, ammo depots, death boxes, killstreak boxes, and many, many more unique options. The function of each box changes based on the game being played.
During gameplay, killstreaks can be earned by racking up consecutive kills. These killstreaks automatically activate on behalf of the player and can be heard over their speaker in their gun, and in most cases, over the speakers on the field. The most popular killstreaks are Chopper support, Airstrikes, Mortar attacks and dropping a Nuke.
The weapons, uBoxes and designated killstreaks makeup the battle that is played on the battlefield. There's plenty more info in our links section below.